OPEN 11:00~22:00 (Lunch SET 11:00~14:00)
---
Lunch
11:00~14:00
LUNCH SET ALL¥980  (inc 1 drink)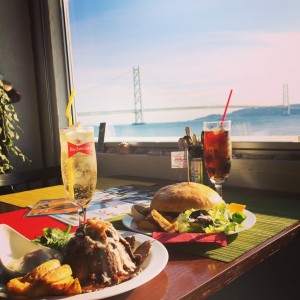 All lunch menu is ¥980 including drinks. Enjoy the mesmorising view from the wide window of our restaurant. You can also upgrade your drink to alcoholic beverage by¥300.
Enjoy our Hamburger with original 100% genuine homemade burger with choices of your fillings; Tomato, Pine apple, Bacon, Cheese, Egg and Advocado.
・Salad plate
・Loco moco
・Fish cake
・Geragera fried rice
・Bai Gaprao
---
 Desert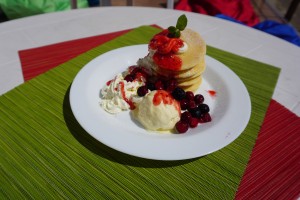 Cheese Cake
Gateau Chocolate
Apple Pie
Tower Pancake  etc….
---
Dinner
DRINK MENU
Beer, Cocktail, Japanese Sake, Wine, Whiskey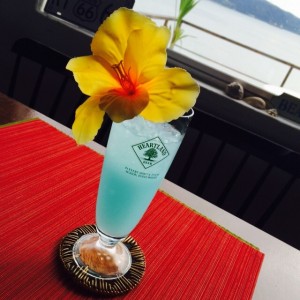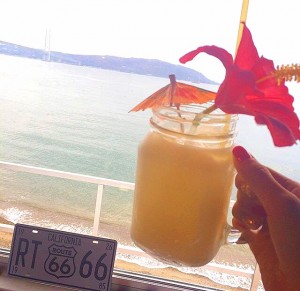 FOOD MENU
Edamame
Octopas wasabi
Ochazuke
Takoyaki
Okonomiyaki
Kobe Sobameshi
Oden
Roast Chicken
Fried Potato
Cuttlefish Tempura
Salad
Mixed cheese  etc….
---
PartyPlan 
立食Party(24名様~)
¥3,300/person 飲み放題付!
和牛ローストビーフ
きのこのキッシュ
半熟玉子のシーザーサラダ
フライドポテト
からあげ
ピザ
デザート
GirlsParty(4名様~)
¥3,500/person 飲み放題付! 南国風COCKTAILあり
きのこのキッシュ
半熟玉子のシーザーサラダ
フライドポテト
アヒージョ
カマンベールチーズスティック
ピザ
デザート
HappyBirthday Plan  (4名様~)
¥2,000/person   飲み放題+1,500
半熟玉子のシーザーサラダ
フライドポテト
オニオンリング
からあげ
gerageraライス
ピザ
ケーキ(人数に応じて大きさが変わります)
GerageraParty Plan  (4名様~)
¥2,500/person   飲み放題+1,500
和牛ローストビーフ
きのこのキッシュ
半熟玉子のシーザーサラダ
カルパッチョ
フライドポテト
ローストチキンプレート
ピザ
gerageraライス
デザート
鍋Party Plan  (4名様~) 冬限定
¥2,300/person  飲み放題+1,500
前菜・しめ 付
てっちり鍋Plan 明石名店「いずも亭」(2名様~) 冬限定
¥8,000/person 飲み放題+1,500
皮湯引き、てっさ、てっちり鍋、雑炊、香物、デザート
お子様Party Plan  (どのコースにもつけれます)
¥1,200/person
ソフトドリンク飲み放題
からあげ、ポテト、デザートなど
持ち込みParty
¥50,000~
※飲み放題90分
---
Morning
¥500
Bread,egg,bacon,salad and drink